Punta Cana Spearfishing charters, speargun & hunter guide.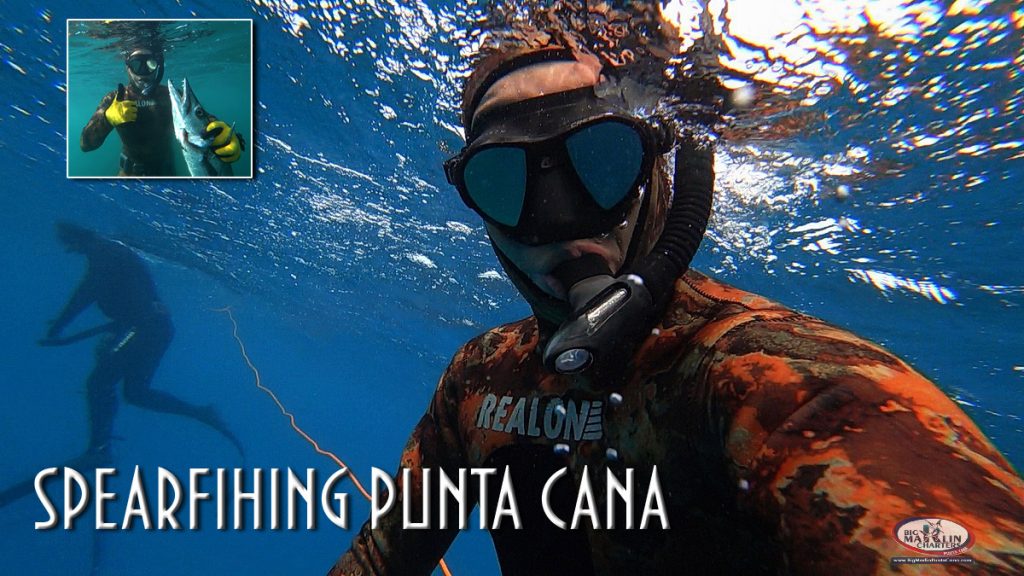 We all know spearfishing in the Dominican Republic can be a very exciting and one of the most extreme and breathtaking spectacles in Punta Cana, but in the end we always respect what has been bestowed upon us.
Many tourists visit the reef not only for spearfishing but also for the incredible views during the dive or freediving or hookah diving. The multi-colored corals and fish scattering or resting in the crevices of the rock don't leave anyone indifferent.
At the Big Marlin Charters Punta Cana Company you can book a spearfishing guided tour with an experienced professional. You will meet one of the most experienced spearfishing hunters in Punta Cana and a member of our professional team, local spearfishermen shore freedive and spearfishing.
We go spearfishing on the 26 feet Grady White model catamaran with two outboard 200 power Yamaha motors. Grady-White Boats Inc. company came a winner of its class many times at the International boat shows. The catamaran is wide, stable and absolutely safe for inshore trip close to reef. The name of the vessel is "Fat Cat". Up to two underwater hunters and two obsever can accommodate very comfortably on this boat. There's a cabin and a WC, navigation system and fish-finder. And marine diving ladder for snorkeling and diving. We also have snorkeling equipment.
The price $350US includes equipment for spearfishing charter Punta Cana as mentioned above, an instructor fee and the Grady White brand catamaran "Fat Cat" 26 feet long with the captain. It also includes pictures of you and your trophies. This charter cost is for Punta Cana area with 3 miles radius zone.
The price $350US is for up to 2 hunters. It also includes comfortable accommodation for up to three of your fan companions.
Prices and time duration for transfer to Punta Cana and back:
From Santo Domingo and Boca Chica – $160 US (2 hours one way)
Juan Dolio – $140 US (1 hour 40 minutes one way)
La Romana – $120 (1 hour 20 minutes one way)
Bayahibe – $90 (1 hour one way)
La Romana cruise terminal Cruise ships in c.La Romana $120 (1 hour 20 minutes one way)
Price for transfer from Punta Cana area is already included in Fishing Charter price. If you would like to get to Punta Cana with your own means you do not need to pay for the transfer.