TRIPS
Excursions to Island boat charter for trips Boca Chica!
Join us for an exciting sea excursions Santo Domingo, Boca Chica, Juan Dolio!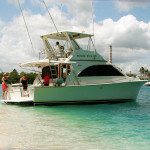 There is no better place to have a great time than on our beautiful modern yacht the Fortuna. The crystal clear water, pure white sand beach, the warm sun, & the fresh fragrant breeze. The all add up to the perfect place for the perfect party.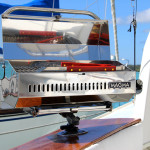 We will cruise along the shoreline & show you some of the nearby exotic pristine island where you can enjoy an unforgettable swim in the warm turquoise Caribbean ocean. Boca Chica Bay, with its crystalline water, gentle breezes & white sand beach is often called the world's biggest swimming pool.
All you need to do is grab your swimsuit & all you need to remember is your camera, because you are not going to want to forget this day. We promise this excursion will be the highlight of your Caribbean vacations.
We depart every day from the Marina Makey on Boca Chica Bay, directly in front of Hotel Don Juan Beach Resort. Typically our excursions are 2 to 5 hours, but we welcome your suggestions.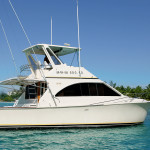 During your trip our excellent bar will be in full swing. Serving premium drinks & ice cold beer. Also soda & juice. We will include snacks & fresh fruit. For the longer trips we will serve a delicious lunch prepared on our grill, tender chicken with potatoes, is one of our typical meals, but again we welcome your suggestions. Be confident that we will make sure that you have enough food & drink for a party of any size.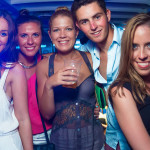 The Fortuna has a powerful sound system for you to enjoy the music of your choice. At night we have a fabulous laser light system to enjoy dancing. If you prefer we can turn the laser off, turn the beat down, & just relax in the front of the boat & enjoy the lights along the shore & the stars.
Enjoy this vacation
Enjoy this time with your family
Enjoy this time with your friends
Enjoy this time with us abroad The Fortuna
Enjoy!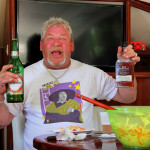 Booking your charter with us is very simple, just follow those steps:
1. Decide how many people are going to be with you onboard.
2. Choose available date and time (please check our calendar for availability schedule)
3. Choose the time when your boat trip should start.
4. Inform us about your special wishes and requests.
4. Call us, write an email or fill out online reservation form with above information.
5. Make a prepayment of 30% in order for us to prepare for your trip – fuel the yacht, buy groceries and frinks.
6. Arrive to Boca Chica, Hotel Don Juan, Marina Makey at confirmed date and time.
7. Relax and enjoy your charter trip!

*We are inviting Travel Operators, Agencies and Agents for mutualy beneficial cooperation.